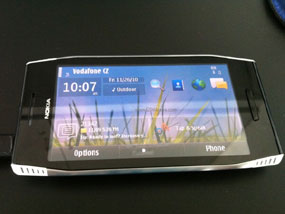 Shocking news coming from
Nokia
. This mobile phone vendor fails to fulfill its promise
X7
smartphone launched in the United States (U.S.). Previously scheduled to glide
X7
next month before the event Mobile World Congress (MWC) in Barcelona held.
In fact,

AT & T

have lined up to star into the exclusive carrier for this phone, which also makes the X7 as Nokia's first smartphone with U.S. operators.

But the fate of X7 is not completely dead. Nokia is planning to launch it in other markets. Reported by the Wall Street Journal and quoted on Saturday (01/22/2011), X7 been 'killed' first in the U.S. due to lack of marketing and support subsidy from

AT & T

.

Nokia is not entirely absent from the U.S. market. There are still other Nokia whiz who presented there, ie, N8. But without the support of the operator, N8 said to be more expensive and offers little incentive for consumers who buy them.

Until now, Symbian, Nokia's operating system is still the world's largest mobile platforms. But apparently, the operators in the U.S. is generally considered

Symbian

ancient and unreliable.